When families consider enrolling their child into an online school, the question "Is it more affordable than traditional school?" usually pops up. And it is a valid question, yet a difficult one to answer. The affordability of schooling depends on many factors, and some of them don't rely upon a family budget. We don't plan on peeking into your wallet, it's not polite. Therefore, instead of answering the question from the headline, we are going to lay out some facts. And maybe you can tell us.
"An investment in knowledge pays the best interest."

Benjamin Franklin
That's what a great Benjamin Franklin once said, and we agree with him on that one. Knowledge is not a pair of shoes that you will buy and wear for a couple of seasons and then throw them away because they are worn out or outgrown. Knowledge stays forever, and you can build it up, rather than "buy a new one." More importantly, knowledge opens new doors and opportunities for you. It enables you to have a better life in every sense of that word and creates a brighter future for the next generations. That is why it is so important.
We don't stop learning new things once we finish school or a university. We learn for as long as we live. Now you understand why primary and secondary education is of critical importance in every person's life. All that makes our job feel not that much of a job, but rather a mission to educate young individuals and prepare them for the next learning phase in their lives.
Is Online School Cost-Effective?
The majority of families see this form of education as a luxury reserved for children of famous people who can afford to pay a lot of money. Yet, online schools don't necessarily have to be pricey. When parents ask questions about the price and whether it is expensive or not, what they truly want to know is will it be worth it? Is it cost-effective?
When it comes to Education World Wide and our service — we think it is worth it. We belong somewhere in the middle of tuition rates compared to other international online schools. Likewise, with two tuition fee packages, we are within the reach range for a majority of families.
Education World Wide is a private, international online school, and our programs have a tuition fee. The counter-argument of parents is — we don't have to pay for education in our country. Of course, primary and secondary education is free in some countries. Yet once again, if it is a private school, you will have to pay for it. Plus, you need to pay for books, supplies, transportation, and other costs.
With Education World Wide your child is learning from a high-quality American international curriculum. They get access to modern online learning platforms, online classes (both individual and group), and all that for the comfort of their home. More importantly, upon graduation, our online students receive a diploma that is recognized and accepted globally.
While you are paying for the program and the service at our online school, there are also segments of this form of education where parents can significantly save up. These costs are inevitable when a child goes to a traditional school.
A Child Doesn't Need a Backpack for an Online School
Let's start with the basics. A student doesn't need a backpack when they are following an online school. Let's make this one clear, it's not about the price of a backpack, but rather the fact that a child has to carry something heavy on their backs. In a lot of countries, students at elementary schools have to carry so many books, and their heavy backpacks are doing damage to their spine. At an online school that won't be a problem. Likewise, they spend way less time in a sedentary position while learning online.
No Need for Books and School Supplies
We don't require books (notebooks are optional) and other school supplies because learning materials are on the platform. The tuition fee covers that part. Parents don't have to buy books, because a student gets access to all learning resources for each subject they follow. Students need a computer or a laptop and a stable Internet connection. That is something that the vast majority of homes already have.
No Transportation Costs
Online school is wherever you are. Whether a student learns from the comfort of their home or decides to travel with family, they can reach their school in a couple of clicks. Children that go to a traditional school have to travel, and parents can either pay for a bus or drive them to school. With an online school, you don't pay for transportation costs. Plus, a student will never be late for school, because it starts when they want.
A Child Gets Internationally Recognized Diploma
With EduWW your child gets an American high school diploma. Yet, you don't have to move to the US, you can stay in your home country. Thanks to the Internet, students all around the world get the same quality of knowledge as students in the US. A high school diploma that we have mentioned opens many doors to our students, by allowing them to apply to colleges and universities globally.
Online School With an Affordable Tuition Fee
Although we are an American school, we offer the same conditions for all our students, regardless of where they live. We don't charge extra tuition fees for international learners. Also, a tuition fee is the same for all grades in our online elementary, online middle, and online high school.
Parents can choose between two packages. Package 1 is $3000, and Package 2 is $3500 per grade, and you can pay that in up to 10 monthly installments. You won't be charged for the application process, and the enrollment fee is actually the first installment of your tuition fee. You can also count on some discounts in case you are enrolling more than one child, or if you pay the fee at once.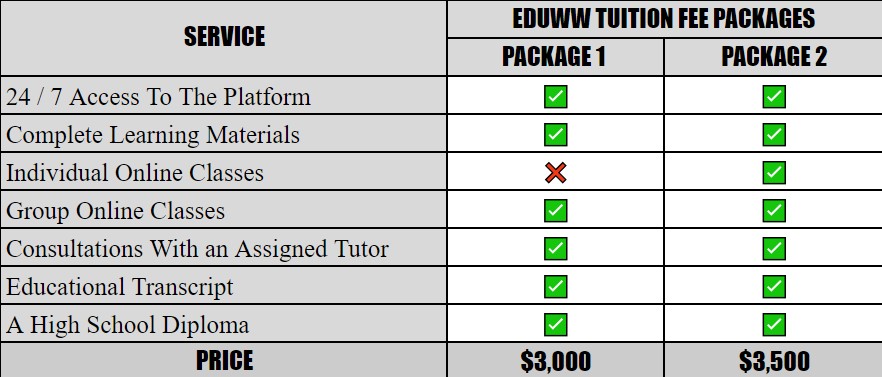 Is Eduww Online Schools Worth It?
We know what is going through your head right now. Is EduWW really worth the money? At our online school, students get a high-quality online program, and the possibility to create individual learning plans. They don't miss out on the socialization aspect because of our group online classes. Our team of tutors and teachers helps them become young and bright individuals with critical thinking and problem-solving mindsets. Students are not afraid to form and express personal opinions. Plus, they improve their English language skills, both written and spoken.
Needless to say that the education with us will be fully recognized and accepted. Likewise, our graduates receive a high school diploma that opens the doors to many colleges and universities globally. You decide if the cost of online schooling with Education World Wide is too expensive.
Feel free to explore our programs per grade:
If you have any questions regarding tuition fees or online schooling at Education World Wide, don't hesitate to contact us. Our education consultants will be glad to help you with all your inquiries. You can reach us via email at admissions@eduww.net or a phone number +1 561-404-4557.