Dual Diploma Increases Your Chances of Getting Into Your Desired University
Get an American High School Diploma alongside your national diploma and boost your chances for admission to your desired university. Education World Wide online school is offering a Dual Diploma program that enables international students to follow our 12th grade program while also attending the final year at a high school in their own country. By owning both a national and American secondary education certificate, you will increase your chances of enrollment into your preferred college or a university worldwide.
Education World Wide is an American online high school with an accredited US curriculum. Our esteemed online program is available to international students, regardless of where they live. Naturally, some students do not want to give up their national certificates, although they would like to hold a US high school diploma due to the international recognition of American education. Through the Dual Diploma program, they can follow only the final, 12th grade, at our online high school and become our graduates.
Our program is fully delivered online, so you can enjoy the convenience of learning from home. We grant students 24/7 access to learning material, full flexibility to create individual learning plans, and the opportunity to learn at their own tempo. In other words, a student will not be overburdened, and they can easily combine the high school obligations in their home country with online schooling assignments at Education World Wide. Additionally, online schooling will equip students with broader knowledge, help them improve the English language, and provide them with an opportunity to acquire skills that will be beneficial once they proceed to university.
How Does a Dual Diploma Program Work?
It sounds almost unbelievable that you can follow only one year at a high school and earn two diplomas. However, that is possible thanks to the credit recovery program that our online school uses. We will recognize your credits achieved in the previous school, allow you to go through 12th grade with us, and become eligible for graduation. Before we continue, let us clarify how the credit system works.
What are Credit Points?
Secondary education in the United States works based on the credits students acquire during their schooling. To be qualified to graduate, students need to get a minimum of 21 credit points. They acquire credits through the courses they follow. At EduWW, students earn one credit point for each core subject and 0.5 or one point per elective subject in each grade. Since our program consists of four core subjects and two elective subjects in each grade, students acquire between five and six credits per grade.
| SUBJECT | CREDIT POINTS |
| --- | --- |
| English Language | 4 |
| Mathematics | 4 |
| History and Social Science | 4 |
| Science | 4 |
| Electives | 5 – 8 |
| TOTAL | 21 – 24 |
How Does the Credit Recovery Program Work?
The online learning platform that Education World Wide uses the support of our Credit Recovery Program or so-called CRX mode. Through this program, we can check our students' previous knowledge and award them corresponding credits. Therefore, even if a student is coming from a school system that does not use credits, they will not have any trouble joining our Dual Diploma program, because of our Credit Recovery Program (CRX).
Once you enroll you enter this program, we will implement the CRX program and assign you a pre-test at the beginning of each unit for every core subject for 9, 10, and 11. If your overall score for each subject is at least 70%, it means that you have passed this course successfully, and you will be awarded one credit. It is simple math.
Sometimes it happens that a student fails this program, and their result is not good enough for earning a credit point. In that case, our Board of Teachers will come up with a solution that can help you earn the necessary credits during the 12th grade program. That plan usually consists of taking an extra class or doing a combined program from a certain subject.
EduWW High School Curriculum
Now that we have explained how the Credit Recovery Program works let's move onto the curriculum. In Grade 12, students follow English, Math, History & Geography, and Science as their core subjects. Our high school students have the privilege to choose among 94 elective subjects that cover wide areas of interest and different fields of study. The same goes for Dual Diploma students. To make it easier to navigate that long list of electives, we have grouped them into departments.
Elective Departments
Architecture & Constructions Department
Arts, Technology and Communication Department
Education & Training Department
Marketing, Business Management and Administration Department
Finance Department
Government, Public Administration Law, Public Safety, Corrections and Security Department
Information Technology Department
Health Science Department
Manufacturing Department
Agriculture, Food and Natural Resources Department
Transportation, Distribution & Logistic Department
STEM Department
Hospitality and Tourism Department
Individual Elective Subjects
Mathematics Electives (Consumer Math, Math Models with Applications A & B, Probability and Statistics A & B, Trigonometry)
History and Social Science (Civics, Civil War, Personal Finance Literacy, Psychology, 20th Century American History, Vietnam Era, World Geography)
Health (Health Education, Personal & Family Living, Physical Education, Physical Fitness)
Fine Arts (Art History, Digital Arts, Media Studies, Music Appreciation, Music Theory)
Business (Business Computer Information Systems, Essentials of Business, Essentials of Communication, Technology and Research)
World Languages (French I and II, Spanish I, II and III)
To find out more about these subjects, please contact us, and one of our consultants will send you the Course Catalogue. and advise you further.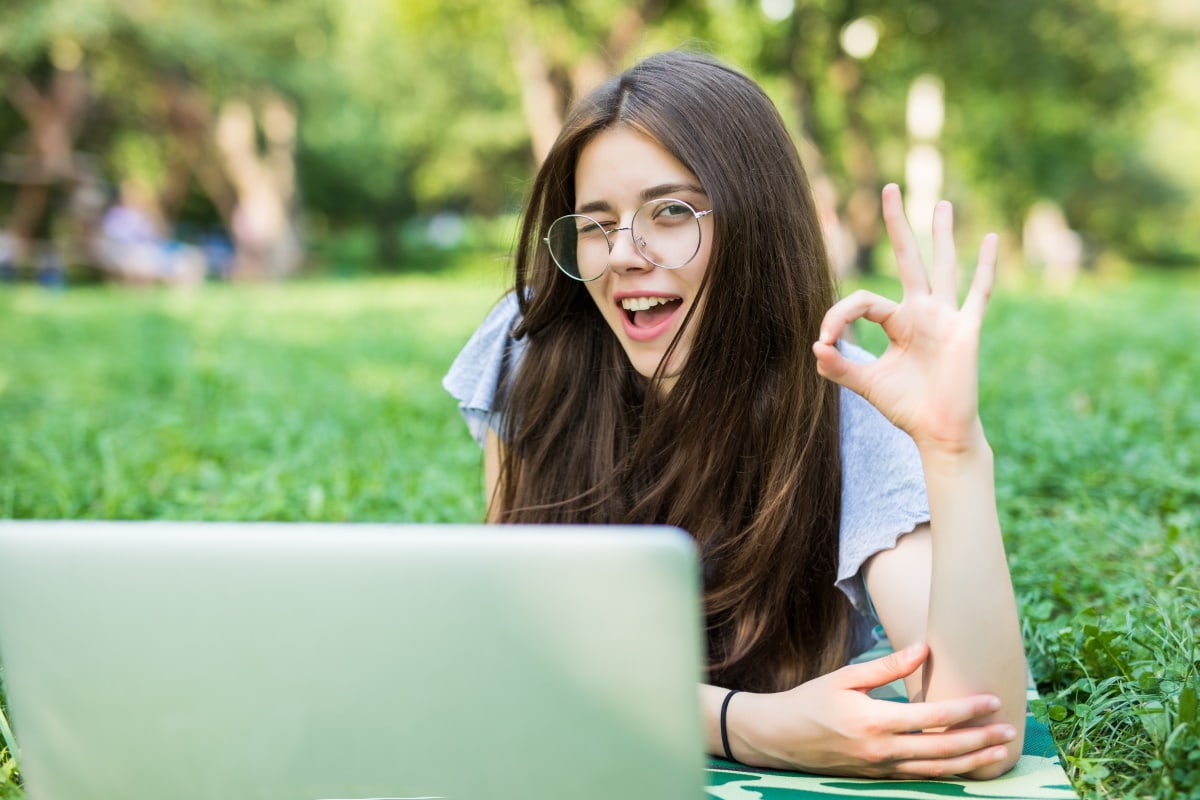 How Online School Works?
Learning online is way different than going to a regular school. It is more flexible and gives you more freedom. If you ask our current students, they will tell you that it is more fun than a traditional school. We'll leave it to you to form your own opinion.
24/7 Access
Contrary to your regular school, at EduWW, you will not have any predetermined timetables or strict due dates. With 24/7 access, you can enter the platform at any time and learn at your own pace whenever it is convenient for you.
Live Online Classes
We provide live online classes, but they are not mandatory. Your work on the platform will suffice. Online individual classes are one-to-one sessions with a teacher. Online group classes allow you to meet your peers worldwide.
Interactive Material
You will not need books since all of the learning material is online and presented through multimedia elements. You will learn from text lessons, audio lessons, videos, games, essays, tests, quizzes. It is fun and engaging.
Additional Features
The platform also has a Translator, Dictionary, and many other helpful features. Likewise, you can send a message to a teacher if you need any assistance with your lesson or if you have a question regarding the material.
Benefits of Dual Diploma
While your national diploma enables you to apply to universities in your own country, holding a US high school diploma will allow you to open the doors of colleges and universities worldwide. As you may probably know, the American educational system is widely respected and accepted. Therefore, a High School Diploma from an American school is acknowledged by higher education institutions worldwide.
After completing our Dual Diploma Program, you will receive a EduWW US High School Diploma. Our diploma is issued in the US, but it comes with an Apostille Certificate for international students. Apostille is a document given by the US court. It ensures the validity and recognition of the original document – in this case, a High School Diploma – outside the US borders.
In other words, by obtaining both – your national and a US High School Diploma, you are significantly boosting your chances of applying and being accepted into your desired university or college
Tuition Fee
Education World Wide does not charge extra for the Dual Diploma. All students who enroll in this program will pay the regular tuition fee, as all of our students. Our online school proposes two school program tuition fee packages. The diagram below explains what each of those school program packages includes. Furthermore, you can pay the tuition fee in a set payment plan of up to 10 monthly installments, meaning it would cost $300 or $350 per month.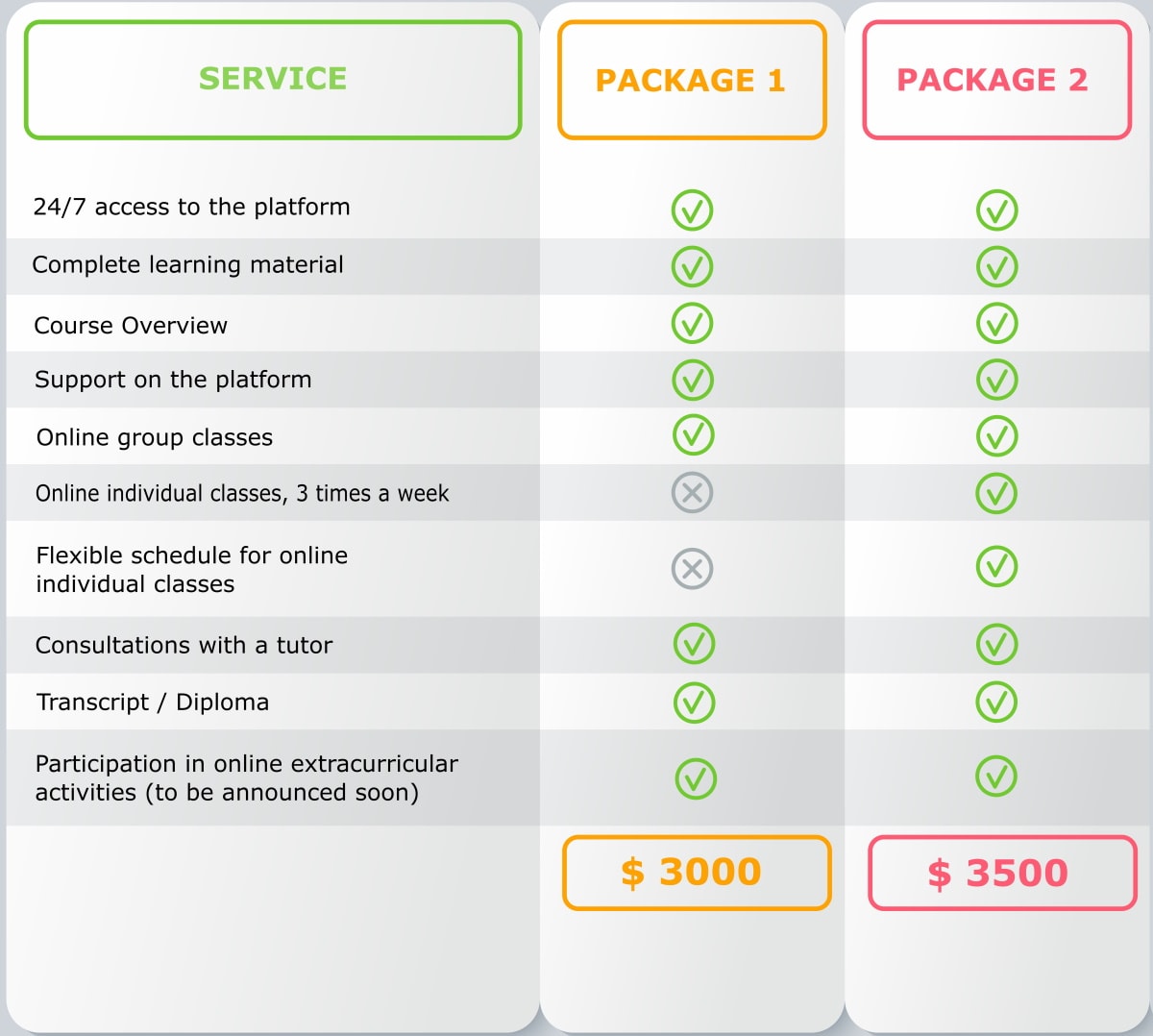 The Dual Diploma program is available to international students that are in their final year of high school. However, you can apply and secure your place even if you are in the lower grades of secondary education. It doesn't matter in which country you live in, nor which high school you are currently attending. The application process is simple, and it starts with you sending us the following documents:
A scanned copy of your ID or passport
A scanned copy of your latest educational transcript
To apply, just click the button below, or you can send your application and required documents to admissions@eduww.net. In that case, name the subject of your email: Dual Diploma Program. When we receive your application, one of our educational consultants from our admissions team will reach out to you and explain the next steps. If you have any questions or would like to discuss certain matters before applying, you can always book a free consultation with one of our consultants before applying.
Education World Wide, International Accredited Online School