EduWW Prime Program
Full-Time Online Elementary School
1 year per grade
We help your children with their first steps in education by providing outstanding full-time online schooling with live online classes and an accredited American curriculum.
EduWW Prime Program will include a full-time elementary school for grades 1 to 5. Students follow an accredited American curriculum that consists of core and elective subjects. The significant difference between the EduWW Prime Program and our usual online school is the number of online classes.
With EduWW Prime Program, students:
Have an official start date (September 2022)
Follow a full-time online school (4 to 5 online classes per day)
Work six to seven hours per day under a tutor's supervision
Keep reading to find out what this program includes and its advantages.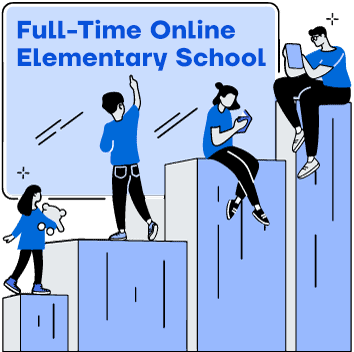 The Benefits of Full-Time Online School
Online schooling, by its definition, offers more flexibility than traditional schooling. Also, EduWW has developed a unique online learning methodology in which we put each student in the center of the learning process. Our experience and working with students from all around the globe have shown that live interaction with teachers leads to better performance. 
That goes especially for kids in elementary school, who are at the beginning of their education journey. With the EduWW Prime Program, young students will form good study habits. Our quality curriculum will give them a solid knowledge foundation and prepare them for higher grades.
More Online Classes For Better Results
Young students sometimes have trouble focusing on school assignments if tutors do not guide them. With the increased number of online classes, we aim to overcome that issue and enable students to achieve better results. Students have between 30 and 35 hours of live online classes with teachers.
Group Pace at the Tempo of Students
A full-time online school will not be as flexible as our classic online school. First of all, the start date is in September, and the grade lasts 10 months. Therefore, students will have to adapt to that timeframe tempo. We took the best practice from our work with elementary school students and transferred it into this program.
Small Groups
Full-time online elementary school grades will have small groups. There will be between 10 and 12 students per grade. Working in smaller groups allows teachers to dedicate necessary attention to every student. At the same time, each student gets the opportunity to be heard in the class and to express their own opinion.
Constant Teacher's Guidance
With the EduWW Prime program, tutors supervise students even when they do their homework. That is how we ensure that students will do their homework. Plus, if something is not clear, a student immediately gets an explanation from a tutor. That also unburdens parents who don't have to work with children frequently.
EduWW Prime Program Outline
A full-time online school consists of daily online classes (Monday to Friday) with a predetermined timetable. It lasts between five and seven hours, depending on the grade. Students learn from our online learning platform, books, and worksheets.
Online Learning Platform
Each student will have a personal profile on our online learning platform, which they can access with their login credentials. The platform contains complete learning material and all assessments, and it measures the progress of a student while they go through the material. Although students learn in a group, the platform measures each student's progress individually.
As mentioned, the program for each subject is displayed through multimedia elements that make learning fun and interactive. Lessons are presented in text and audio form, and students also learn from explanatory videos, graphics, photos, and games. Tests, quizzes, and essays are created in a manner to spark child's curiosity and interestingly test their knowledge.
Books And Worksheets
Students will get books for each subject and worksheets. Books cover the same curriculum as the one on the platform, but naturally, they don't have multimedia elements and are not as interactive. Instead of printing the worksheets every time from the platform, students will receive hard copies of worksheets so they can work on them.
Online Classes
A full-time online elementary school will be based primarily on group classes, but individual classes will also be available. Besides online classes, we also enable students to socialize and connect through extracurricular activities. The number of group classes per day differs from grade to grade. You can see the explanation below.
Group classes are mandatory, and students will have to attend them. If a student skips group classes, they can cover the material individually since the platform will be available to them at all times. In case a student is absent from school for several days, a teacher may suggest that they attend individual classes to catch up with the group tempo.
A Day in a Full-time Online School
Once students join the first group class, they stay in the same session. The class lasts 45 minutes, and then students will have a short break (around 10 minutes) before returning for the next class. An online school day usually ends with Physical Education or Arts and Crafts classes because these fun activities will relax students.
After the classes, there will be a short break, but the session continues, and students will proceed to work on their homework – supervised by a tutor. If something is not clear to them, they can immediately ask a tutor to explain the tricky part. Students will also have extracurricular activities once or twice per month, such as book club, movie club, music club, and others.
Class Schedule for Students in Grades 1 and 2
With the tutor, all students will attend at least 4 hours of classes and 2 additional hours predicted for doing homework and extracurricular activities. Language Arts and Mathematics classes are taught every day (5 classes per week), while Social Studies and Science classes are taught twice per week. Elective subjects will have different schedules. Music and Arts & Crafts will be taught once every week, and Health and PE will be taught twice per week.

Class Schedule for Students in Grades 3 to 5
All students attend at least 5 hours of classes, and 2 additional hours are predicted for doing homework and extracurricular activities – with the tutor. Language Arts and Mathematics classes are taught every day (5 classes per week), while Social Studies and Science classes are conducted twice per week each. Elective subjects will have different schedules. Music and Arts & Crafts will be taught once every week, and Health and PE will be taught twice per week. They will have 2 foreign language lessons per week.

Program per Grade
Each grade consists of four core subjects and elective subjects. While students in grades 1 and 2 have four electives, students who attend grades 3 to 5 will have six elective subjects.
Grades 1 to 5
Core Subjects
English Language Arts
Mathematics
Social Studies
Science
Grades 1 and 2
Elective Subjects
Health
Arts & Crafts
Physical Education
Music
Grades 3 to 5
Elective Subjects
Health
Arts & Crafts
Physical Education
Music
Scratch Coding
Second Language
EduWW Prime Program Tuition Fee
The tuition Fee for EduWW Prime Online Elementary School is $5500 per grade*. As usual, EduWW gives families a couple of possibilities to pay the tuition fee. A single, up-front payment and through monthly installments. The tuition fee covers:
A personal profile of a student on the platform (24/7 access)
Complete learning material on the platform
Books and worksheets
Consultations with an assigned tutor
Group classes and tutoring support Monday to Friday
Individual classes (when that is necessary)
Extracurricular activities
Progression report for a student on a monthly level
Academic transcript at the end of the grade
*The tuition fee covers the school year, which lasts for 10 months.
Considering EduWW Prime Online Elementary School?
EduWW Prime Online Elementary school is tailored to your child's needs. Given that these are formative years of a child, our teachers and unique learning methodology help them develop study habits and personal learning styles. A high-quality curriculum ensures that students will receive excellent knowledge. In combination with a particular teaching style, online learning will ensure that children learn in a fun and exciting way through interaction where they are not just passive listeners.
Our system aims to make students feel comfortable forming and sharing their opinions even at a young age. By sparking their curiosity, we prompt them to explore further. Full-time online schooling will take the best out of the flexibility of online education and combine it with a more strict approach. By allowing students to learn between five and six hours per day with the guidance and supervision of tutors, we ensure quality education and higher knowledge retention.
If you consider this option for your child, get in touch and book a free consultation with one of our consultants. They can explain the details and guide you through the entire enrollment process.
Full-Time Online Elementary School