When attending an online school, you can easily fall into the trap of believing that everything will be served for you on your screen. Even though there is some truth to it, in EduWW online school, we encourage a different approach. On our part, we provide excellent tutoring support and an online platform that contains all of the learning materials. Yet, we believe students themselves are the most crucial link in a successful studying process.
When a student is invested in learning, you can instantly see the difference. Our diligent tutors do their best to interest them in lessons and make the classes as dynamic as possible. Nonetheless, students take a huge part in that interaction, and it is vital they prepare for the course. Whether you are a concerned parent or online student interested in preparing and doing better in classes, keep reading.
Get To Know the Course Materials
Every student in EduWW online school has access to an online platform that contains videos, pictures, and audio that follow each lesson and explains it in detail. Other than that, it provides students with an opportunity to study independently and get ready in advance. They can access it any time, night or day during the entire school year. In that way, they will feel more confident when the time for an online class comes.
Especially during group classes when other students are present, there can be a certain amount of pressure. Looking at the subject matter in advance can tone the pressure down since you'll know what's ahead of you. Other than that, students will understand more what the tutor is teaching. EduWW tutors also use the so-called "flipped classroom", a method from a "blended learning" approach. That's when they ask the students to prepare a lesson by themselves at home. When it's time for the class, students are those that discuss and "teach" one another how they understand the subject.
Still, tutors monitor and make sure everything is correct and crystal clear. It's just a method that makes the studying process more fun and interactive. It includes every student much more than the traditional approach. In that way, the learning experience gets a new engaging, and exciting dimension. Additionally, it also helps students get in the habit of preparing for classes in advance. In addition, it provides them with high-quality, comprehensive knowledge and a set of excellent skills in the long run.
Don't Forget Notebooks and Books
Although we are an online private school, we believe in traditional ways of studying as well. Many people think that online education takes place solely online via screens, but it is not the case. It is always good to write down questions pupils might have or essential parts of lectures. That's why tutors always encourage them to keep a notebook close by even though the platform contains learning materials. Simply, each student comprehends lessons differently. It is good they keep track of what they have learned in handwritten form.
Additionally, EduWW online courses are designed not to overburden a student. However, that leaves them with more spare time. We always try to motivate them to use that time in the best possible way. We suggest that they explore their talents, acquire new skills, and of course, read. Sure, nowadays you can find a lot of information on the internet, but we mustn't forget the books. That's why tutors often suggest students read a book concerning a lesson. Some students think of that on their own if they are interested in a subject. It never hurts to be informed a bit extra, and books are a fun and safe way to do so. Although we teach online full time, EduWW believes books will never be an outdated source of knowledge.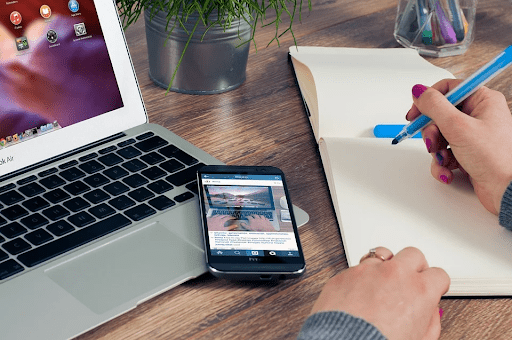 Make Sure To Set Goals
Having clear goals of what you want to accomplish in a day, week, or even life always helps out. That applies to the online learning process as well. The best way to prepare yourself is to make a schedule and be realistic about it. If you are a middle or a high school student, already career-focused, you should direct your goals towards the wanted college.
For example, if a student wants to be a graphic designer or is especially interested in data science, they should prepare extra for related classes. Higher education requires higher levels of comprehension and consequently more time for studying. Getting ready for college is not easy, so having a schedule and good organization skills is necessary. Combining all that we stated above will enormously help students' professional development.
Ready? Set! Go!
Since online students, in most cases, don't leave the comfort of their home to attend classes, they should use that advantage. Use your spare time wisely! Taking even a part of that time to get ready for a class guarantees success. That's how easy it is. If you have some additional questions about getting ready or about our school in general, please don't hesitate to contact us at admissions@eduww.net. Our consultants will take it from there, and we hope to see you soon ready in our classes.