Switching to online schooling is a big step for a student, but also parents. Many things change, but it doesn't mean that the burden will fall on their shoulders. They, too, can lean into the benefits of online education and be more involved in their child schooling. As an online school, we aim to build a relationship based on trust from the first moment family contacts us. We see you, parents, as our allies in the mission of creating a unique learning experience for your child.
When your child starts learning online, it brings a lot of challenges. However, there is no need to worry because Education World Wide staff provides support for parents. We will guide you from the very first moment you reach out to our online school through the rest of your child's schooling with us. We are here to help.
Shifting to online education brings benefits and conveniences for your child, so there is no reason why you shouldn't take advantage of them as well. In addition, online schooling gives you more ways to be involved in your child's education, which does not necessarily mean that you need to spend more time doing so.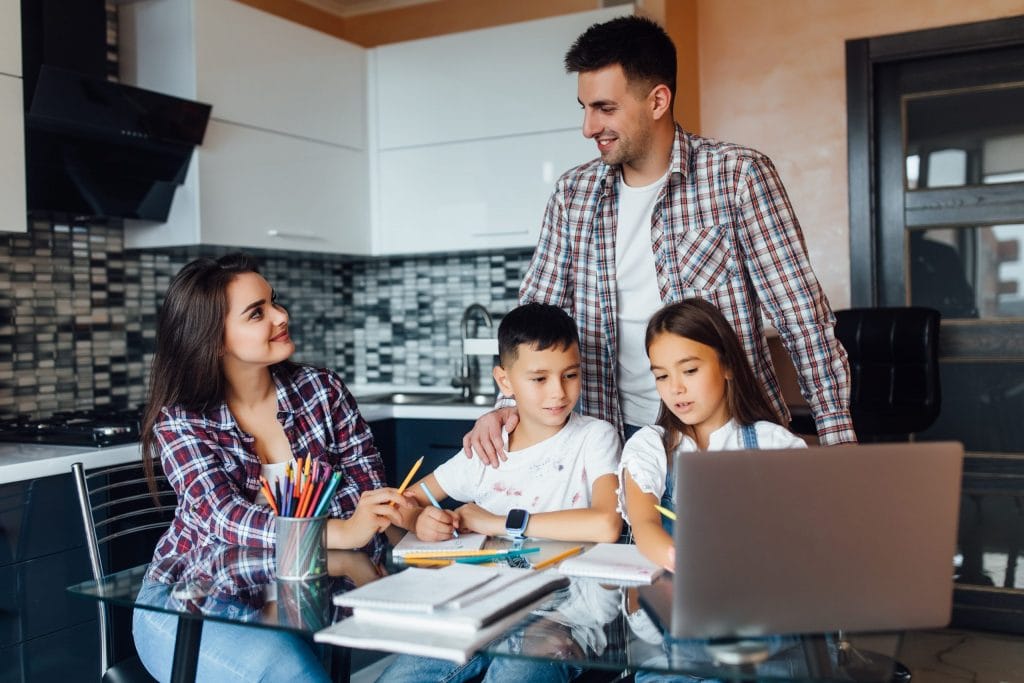 You Are Not Alone
For many parents, online education is a novelty, and they have difficulties understanding what this form of learning involves. Our friendly education consultants will explain any aspect of online schooling to you and your child before you enroll. That is how you'll know what you are getting into in advance, and more importantly, you still have time to decide whether or not that will work for your child.
Once the enrollment is done, you will meet your child's dedicated tutor. Both consultant and tutor are persons with whom you will be regularly in touch during your child's schooling at Education World Wide. While consultants are there to help you with any administrative or financial matters, you can discuss your child's progress with a tutor.
Tell Us What Your Child Needs
Online schooling allows a more personalized learning approach. Each student creates an individual learning plan and learns at their own tempo. In other words, our program and methodology are absolutely adjustable to each child's individual needs. Our teachers are trying to get to know students and to adjust their teaching according to every student individually.
You know your child the best, their wishes, desires, learning habits, affinities. Share your insight with teachers and consultants before enrolling. That will vastly help us create a plan to enable your child to take the maximum out of our online school. Do they need a bit more help with math, or maybe they struggle with English? Is your child a visual learner? Maybe they are better off learning alone and not in a group. Any information that you share will help us to adapt our learning approach to your child.
Be Updated About Your Child's Progress
Our students learn on the online learning platform. This learning management system has in-depth analytics that tracks many elements of a student's progress. That progress is available to you and your child at all times. You can log in any time during the day and see how far your child has gone with the program. This option is perfect because it allows you to do it in your own time. You do not have to reschedule previous obligations just for the schooling commitments.
Likewise, you can ask for a progress report at the end of each month or after a trimester or semester. The teacher will create such a report and send it to you to have a look. Our teachers are closely monitoring each student's work, and if they notice anything that might indicate a potential problem, they will notify the parents. The same goes for your side. If at any moment you notice some problems or concerns regarding your child's education, you can always contact their dedicated tutor or a consultant.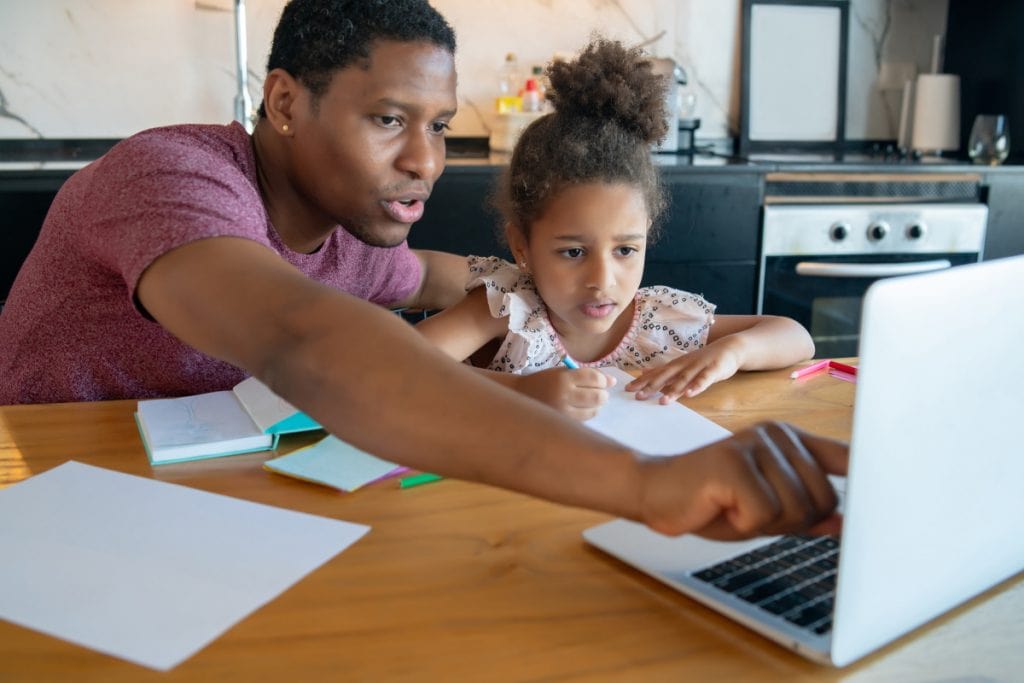 No Parents-Teacher Night, but Check Your Email
We don't have traditional Parents-Teacher nights or meetings like regular schools, but that doesn't mean that parents are not informed. We already mentioned that you can always reach out to a teacher and a consultant and discuss any matter. Likewise, the school often issues important notices via email.
That is why you should always check the electronic email that comes from school accounts. We try to keep you in the loop, not just regarding your child's progress but everything that happens in our online school. After all, you and your family are an essential element in the growth of our online school, and we would like to include you in every aspect possible.
Education World Wide is always open to suggestions, so if you have an idea on what we should do to improve our services to students, you can always write to us. We listen to our students and parents. You need proof. Well, last year, we offered exclusively one-on-one tutoring support. However, several parents wrote to us suggesting that group classes would be an excellent addition to our services.
In the aftermath, Education World Wide now offers online group classes alongside 1-on-1 tutoring sessions. We managed to slightly bridge the socialization gap at an online school because our students now get to meet and communicate with their peers worldwide. Have an idea how to improve our services — share it with us, we would like to hear your opinion.
Help Your Child Organize Their Time and Space
We already mentioned that learning at home can bring some challenges. For example, there is no classroom, so make sure your child has a nice place to learn at home. Sure, the online school allows flexibility, but laying in a bed in their pajamas is not the best way to study. A desk, comfortable chair, laptop or a computer and a solid internet connection will do the job.
Likewise, having 24/7 to learn whenever you want sounds fantastic, yet some kids are terrible at organizing their own time. This flexibility soon turns into procrastination, and they'll have a list of overdue assignments in no time. While this self-organization mostly depends on the child's age, parents can always help them to arrange their time. Assist them with creating personal learning schedule, and more importantly, make sure that they stick to that schedule.
Should I Be Present At an Online Class?
Our consultants and tutors often get this question from parents, and we do not have a clear answer to it. Your presence during an online class depends on your child's age. If we are talking about super young students who are five, six, or seven years old, mom and dad can sometimes attend an online class, especially if the child is shy or does not speak English well.
Yet, our common goal is to get to where you don't have to be present in class because a student can work independently. When it comes to students who are in higher grades, there is absolutely no need for parents to participate in the class.
Do I Need To Teach My Child at Home?
The short answer to this question would be: Not more than you would have to work with them if they attended regular school. With individual and group online classes, Education World Wide pretty much got online learning with tutoring support covered. Online school is not the same as homeschooling. Our tutors will work with your child. We do require students to learn on the platform on their own.
Whether or not you will be involved during that solo studying depends on how old the student is and the time you have at your disposal. Younger children require some assistance in learning, so spending time with them while they study online will be necessary. Yet, our online learning platform is interactive and fun, and learning alongside your child will be a fun activity for the whole family. Older students usually learn on their own, and they do not require parent assistance.
Conclusion
The role of a parent in their child's education is immense, regardless if we are talking about traditional or online learning. Enrolling your child into our online school does not mean you will have to teach them. We have tutors and teachers who will do that. You can help them organize their learning space and create and follow individual learning plans.
Your involvement in your child's education remains the same. As a matter of fact, online schooling makes things easier even for parents. For example, there is no need to commute to a brick-and-mortar location just to check your child's progress. Instead, it is available to you in a couple of clicks every day.
In other words, you can actively participate in your child's education to the extent that correlates with your free time and other obligations. The school staff is always at your disposal, and you can send an email or schedule an online meeting with a consultant or a teacher to discuss any matter related to your child's education. Likewise, you are always welcome to share insights and suggest ideas on improving the service for our students. We listen to our students and their parents, and we are always reachable via info@eduww.net or admissions@eduww.net.