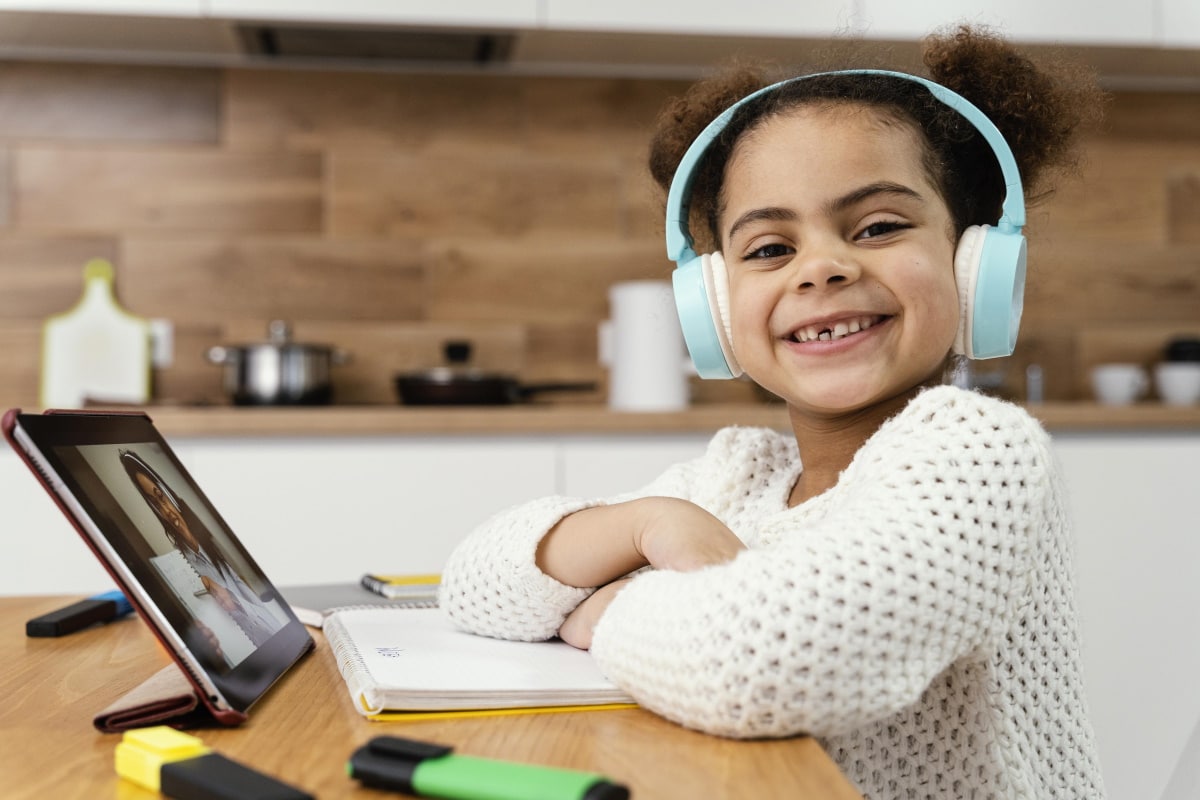 Online Elementary School — Education At Your Child's Pace
An online elementary school can be an ideal choice for your child's primary education. Just because the learning happens in the virtual world doesn't mean it loses its quality compared to classic schooling. The merits of online schooling turn students into better and faster learners. With a top-notch curriculum, dedicated tutoring work, and full flexibility, Education World Wide ensures that our youngest students make confident first steps through education. We help them build a solid foundation of knowledge and progress to other grades, all the way up to higher education.
The beginning of education is an essential milestone in the life of every child. Exciting and scary at the same time, and for everyone — parents and a student. It's in those formative years that children learn vital skills that are important for their development. If the foundation is not set correctly, a child will have some trouble learning in the future. Traditional schooling had done a remarkable job up until one point when it started failing for many reasons. Some of them being overcrowded classrooms, teachers who don't dedicate enough time to each student, or simply a low-quality educational system.
That is where online education stepped in, bringing a new form and new approaches to schooling. These new methodologies shifted perspectives and the habits of both students and teachers. The learning becomes more student-centered, almost tailor-made to each student's individual needs. Precisely because of that, an online elementary school seems like the right choice for a fresh student.
Is Online Elementary School Right For Your Child?
There is no simple answer to that question because it depends on so many reasons. Online school is an excellent choice for students who want a more flexible schedule rather than strict timetables. In this day and age, everyone can benefit from a more flexible schedule because it leaves plenty of time for other activities or simply spending more time with the family. It also allows parents to be more involved in their child's education. In other words, an online school is suitable for any student.
Parents are often skeptical if their six-year-old child will adapt to the online environment, but it seems it is easier for them than for older students. Why? Because at that age, kids are curious and open to everything new and different. Keep in mind that they are not changing old habits, they are just building entirely new ones.
Approach That Makes All the Difference
Curiosity plays a vital role through online education. It pushes students to go further, to learn and discover more. That aspect is often missing in a traditional school, so students start to feel like classes are a tiresome responsibility. At online school, students can't wait for the next online class. Tutors and teachers make sure that the curiosity never runs dry.
EduWW tutors and teachers follow a unique learning methodology based on the individual approach to each student. By getting to know the students better, tutors can personalize teaching styles to fit each student's needs. This way of educating seems to have a more substantial impact on elementary school students. They got all the attention that they need and an opportunity to learn at their own tempo and develop a personal learning style. That is not possible in regular schools where students adapt to the group.
In traditional or online elementary school, children will learn the same — reading, writing, basic math. Yet, the approach that we take at Education World Wide helps them build character, develop critical thinking, communication, both spoken and written. More importantly, by learning in an internationally diversified environment and socializing with peers from different countries, they are learning about a different culture and accept them.
How Does Online Elementary School Works?
At an online elementary school daily schedule depends entirely on student's needs and desires. They can customize almost every aspect of learning. They choose when they want to learn and for how long. We recommend that they spend at least two hours per day on the platform. With 24/7 access to all learning materials, they can pick any time they want to study. Students learn individually, but at online school, classes with tutors are also available.
Our tutors work with students in 1 on 1 classes, as well as online group classes. Groups are small and consist of students at the same progression levels and with similar study habits. That is how we ensure that they all still learn at their own pace, even though they study in groups. Students are not obliged to go to a physical location. They can learn from home or any other place. All they need is a computer, laptop, or tablet with a stable internet connection. Also, our online learning platform's design and the way lessons are distributed make learning more fun and easier.
Grades and Curriculum
According to the US schooling system, the elementary school has four grades, and it covers Grades 1 to 4. Education World Wide uses an approved online elementary school curriculum that is suitable for teaching students globally. The first two grades are delivered through the SPARK program, consisting of only two courses — English Language Arts and Mathematics. Through these subjects, students learn basics such as spelling, reading, and essential mathematics. All that prepares them for Grades 3 and 4 when they get more subjects. Alongside English Language Arts and Math, students also learn History & Geography (combined) and Science.
Let's Sum It Up
Enrolling your first grader in an online school is not a bad idea at all. Online elementary schools can deliver the knowledge in a more efficient way than traditional educational institutions. With its unique learning and pedagogical approaches to teaching, Education World Wide nurtures students' curiosity through online learning. Our students are also developing valuable life skills that help their growth.
Online School Benefits
Education World Wide is an online elementary school at your own pace, or better to say at your child's pace.
Student-centered learning methodology
Teaching approach tailored to student's individual needs
Learning based on nurturing curiosity, fun and interactive curriculum
Opportunity to work in individual and group classes
Self-paced learning
Flexible learning schedule with 24/7 access to the learning material
An international environment that stimulates socialization among students even though they learn online
About Education World Wide
Education World Wide is an online school based in Florida (US) and registered in the Florida Board of Education under the school code 4627. We are eligible to provide education for elementary, middle, and high school students globally, and all documents issued by our school are accepted and recognized internationally.
We accept new students throughout the entire year. If you are considering enrollment, get in touch, so we can give you more details. Send us an email to info@eduww.net or schedule a free meeting with one of our consultants by filling up this form.