Among EduWW students, you can find all sorts of interesting life stories, extraordinary talents, and unusual hobbies. One of our very dear students is passionate about solving puzzles. To be precise, she is especially keen on solving Rubic's cubes.
Her name is Daria Berezhnaya. She comes from Russia, and she attends the 9th grade in our online school. About her love for puzzles, Rubic's cube particularly, we wanted to ask her a few questions, so maybe we would inspire one of you to pursue such activity or perhaps some other exciting hobby. 
Daria has kindly agreed to be the first to share her story on the EduWW blog and tell us more about her puzzle-solving passion.
She states that she enjoys "speedcubing" the most, and she hopes maybe someone will join her community after reading this interview. We have asked her a couple of questions, and she has very kindly responded.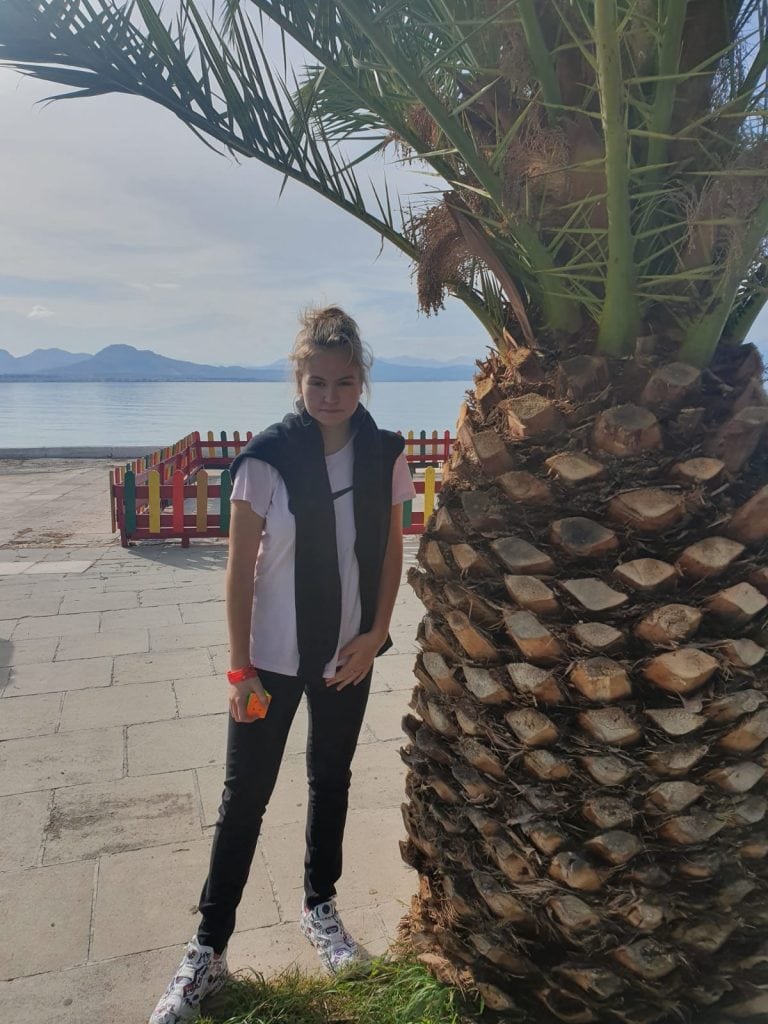 Why Rubik's cube? How exactly did you decide that you want to pursue such a hobby?
Rubik's cube is a fascinating puzzle; it looks so simple. It's just tuning layers, but at the same time, it has 43 quintillion positions; lifetime is not enough to solve every possible combination of a cube, so every single solution is unique.
For how long have you been practicing?
I've been solving puzzles for approximately 3-4 years.
Can you describe to us what your practice looks like?
There are different types of practice.
Before a competition, I personally use "stack mat timer" and people talking as my background music; it's an "official" practice that usually takes hours.
Learning new algorithms is basically learning new algorithms and drilling them, learning new finger tricks.
The practice known as 2-gen it's a technique focused on improving cross, first two layers, and lookahead.
Relaxing sessions are cubing everywhere, without a timer, just you and cube, and a "speed force." 
Brain breaker – solving non-WCA puzzles with a timer.
My main event is "three by three," so I usually practice like this.
Did you participate in any competitions, and if not, do you have the ambition to do so? If you did, can you tell us your highest score, and also explain what competitions look like?
I've never actually participated in an official competition organized by the WCA; they are infrequent these times in my country. And it's pretty hard to talk about ambition because a lot depends on luck. Consistency is the key to success, but sometimes you can be so lucky you can skip a whole step or solve an easy triple-cross; in that case, you just have to use this chance. Completions are a very welcoming environment. You don't have to be a pro to participate in a comp; it's just a place with like-minded people; everyone is supportive since speedcubing is about beating your personal best, so everyone is happy for you. No one really cares about how old you are, 40 or 12, how fast you are. So it's tough for me to explain how it feels; you have to be there to understand the atmosphere; it's like a big party but with puzzles. 
Competition is about having fun and finding friends. It is often organized in a vast room; sometimes, at schools, there are a lot of tables, volunteers, and a lot of cubes; everyone brings them, and we share and attempt to assemble as many puzzles as we can.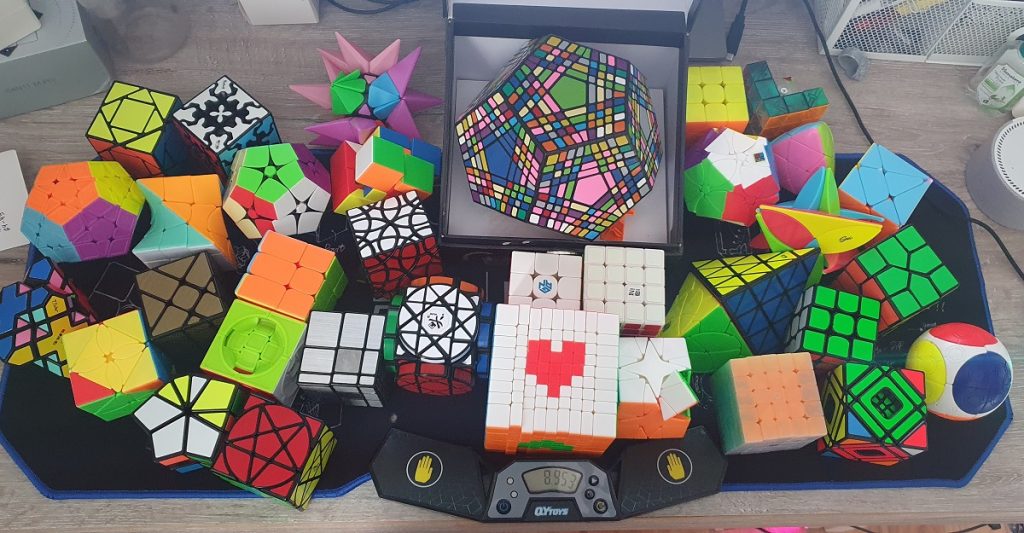 What's the biggest Rubik's cube that you have solved, and how much time did it take?
My biggest Rubik's cube is 9×9 which takes me around 20 minutes to solve, but the biggest cube that I solved was my friend's 13×13 which took me around an hour on the first try. My biggest and newest puzzle is Petaminx; it's pretty big, it's a dodecahedron-shaped puzzle. It was my birthday present, and it took me a day (with breaks) to solve it for the first time (with no help).
But honestly, the size doesn't make a puzzle hard. It's time-consuming- yes, but it's just a repetition of actions; my brain was exhausted after I solved a Petaminx, but there are puzzles standard size but so complex inside that it's mind-blowing, and solving them with no help is a real challenge because sometimes you just don't know what to do. 
What skills are necessary to be a good Rubik's Cube solver?
You don't have to be good at math or IT to be good at speedcubing. All skills can be gained with work and practice. The essential skill, in my opinion, is lookahead and being patient for the results.
Is that your favorite hobby, or do you have others?
I spent a lot of time studying biology; it's not really a hobby but my passion. I'm into resting 3D printing, and I enjoy playing the piano; before Covid, I was a professional dancer, but twisty puzzling is an addiction. I don't go anywhere without a puzzle; people tend to put away their phones during studies to stop a distraction; I put away my cubes.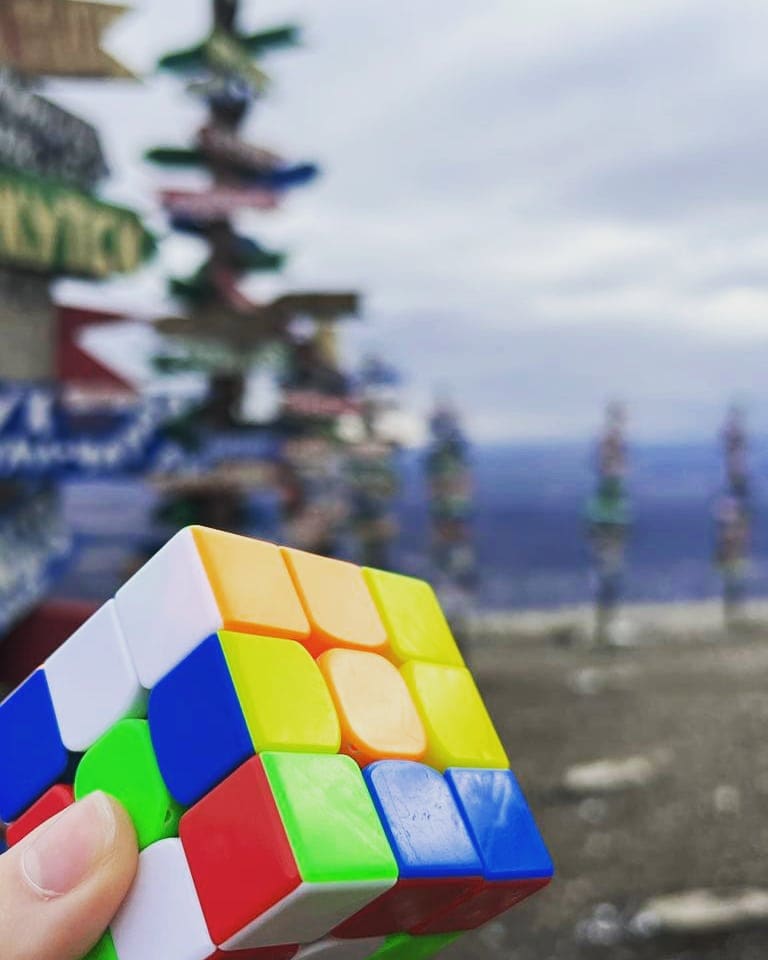 Does online schooling leave you with more spare time to practice?
The online school does leave time for hobbies, including speedcubing.
Have you shared your love of Rubik's cube with your classmates in EduWW?
I share my new times and new puzzles with my tutor, and in group classes, we usually talk about our favorite books or movies.
We hope that you have enjoyed Daria's story and that you feel inspired maybe to try solving some smaller Rubik's cubes for starters. If not that, then perhaps you could finally start doing that one thing you have been putting off for so long. There are thousands of extraordinary things to try out there, and EduWW is all about encouragement and daring. As we like to say, dare to learn, whether it's a new language, skill, solution to a math problem, or anything else, we are with you all the way!