Individual classes in an online school are not the default concept for online education. It is something our school takes great pride in, and it is something that makes us stand out among others. Read this article to find the exact benefits of individual classes in an online school.
Concept of Individual Classes
If you have already chosen an online school, you know the advantages that come with it. But if you choose our school, the option of one-on-one classes may be a new concept for you.
What do we mean when we say, individual classes? Many K12 online programs don't include such a concept. Our school offers two different sets of online courses. The first package includes group classes only, but the second one includes three individual classes per week along with the group ones!
The photo below explains what each tuition fee package covers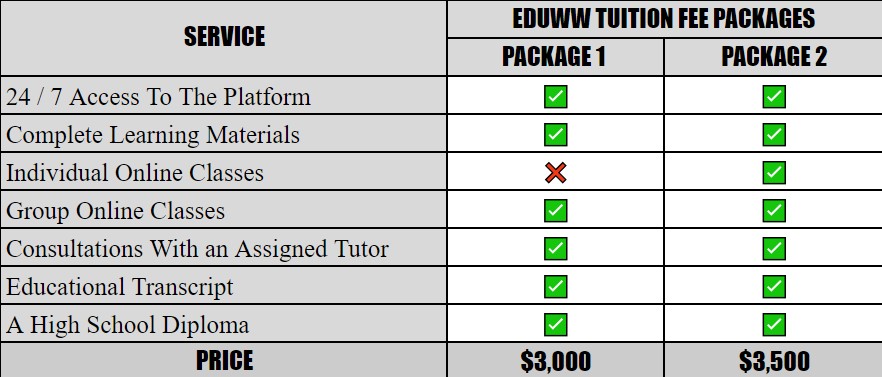 To put it simply, individual classes imply one-on-one communication with your tutor. Since we nurture a friendly approach in our school, some of the pupils may misbehave in group online classes. Our tutors respond accordingly, but just as in traditional schools, some time will be lost. Individual classes are a perfect way to make up for it. Our tutors are more than happy to help out and repeat anything a student didn't understand.
Also, some children are too shy to ask questions if they don't understand something. It can be extra challenging for timid children to speak in front of other pupils. Individual classes are a perfect opportunity to have some private time and ask all the questions they can come up with. Through one-on-one time with a tutor, a student studies the same material as in group ones. They just have a little bit of extra time and extra attention from their tutor.
Different Duration of Individual Classes
Since we pay attention to the capacity of our students, different length of classes is also an option. Whether you opt for our 15 minutes consultations, 30 or 45 minutes long classes, all the attention is on you.
For younger children, 30 minutes long ones are a great way for them to get comfortable with their tutor. It is also a perfect opportunity for a tutor and a student to get to know each other on a more personal basis.
Everybody has a personal pace of studying. Some students prefer visual stimulants. Some learn better through trivia and live conversations with a tutor. Either way, individual classes are a perfect way to establish the right dynamics between a tutor and a student.
Individual Classes: All the Advantages That You Can Think Of
No matter the degree program, if you are in elementary, middle, or high school, individual classes are a great option for everyone.
In a one-on-one session, a student has the undivided attention of their tutor. That extra time and care that they get can make all the difference. Having a tutor all to yourself helps with understanding learning material.
You can ask everything that isn't clear, and you can establish your learning pace. Since the student is alone with a tutor, consequently they have more time. Experience shows that less of the learning material gets covered when there is a group of pupils.
There is no way to know how the other students will behave during group classes. Mainly, our students are quiet and respectful. However, mishaps or some technical issues can occur. In a rush of inspiration, sometimes students talk at the same time. Sometimes they can interrupt one another.
Individual classes guarantee a calm atmosphere. A student can study in peace and keep up with a tutor and learning platform to their pace. They can ask all the questions they want without being interrupted and safe from any judgment from other children.
The Downside of Individual Classes?
Along with all advantages that we mentioned come a few disadvantages. It's not something to be worried about. Some common worries about online learning are the process of socialization, development of communication skills, joint student research, and such. The same can be said for individual classes. We can dispute all of this.
First of all, students can have lots of friends outside of the online school. They can even spend more time with them because online school allows personal organization of studying time. Furthermore, our school does not exclude interaction between students. They can communicate with one another in group classes that are included in both of our learning packages.
Our tutors even encourage them to do so through lesson-related questions. In that way, they develop social connections and communication skills. In addition, sometimes a healthy mutual competition exists between them.
When Everything Sums Up…
A learning package that includes individual classes can only be a good thing for a student! Our school takes great pride in such a form of online schooling. Our experience shows that students enjoy alone time with tutors, and it helps them a lot.
If you have any doubts about learning packages that our school offers, or further questions, make sure to contact us at admissions@eduww.net. Our education consultants will provide you with all the necessary information. We hope to see you soon as our newest student.