Decided to homeschool your child? You are at the right place. EduWW offers an accredited American curriculum that can be turned into an excellent homeschooling resource. The program covers grades K-12, elementary, middle, and high school. It is entirely delivered online and perfectly adaptable to the requirements of homeschooling families.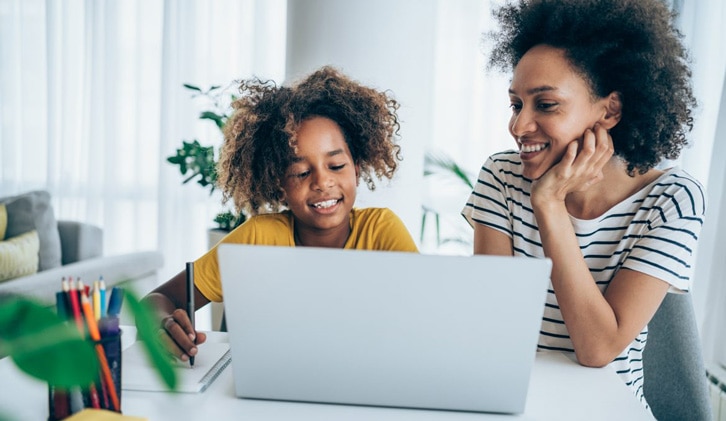 Before you proceed, you should know:
Many parents confuse homeschooling and online schooling, but they are different. Sure, both forms of education allow children to learn from home. However, schooling at home means that a parent assumes the role of a teacher, and they decide what they will teach the child and in what manner. 
With online schooling, a student learns from home, follows an accredited American curriculum, and has live online classes with teachers. Their education follows state-accredited standards and is therefore recognized and accepted internationally.
Also, with online school, a student gets an academic transcript and a high school diploma, whereas, with homeschooling, it is not possible to obtain these documents. That is why many countries do not allow homeschooling.
If you want your child to learn from home but be guided by teachers – you are interested in an online school. Please check here our school programs.
Online Homeschool Programs
If you choose to homeschool your child, our kind recommendation would be to use an accredited curriculum.
As mentioned above, our online homeschool program includes all grade levels for elementary, middle, and high school. The core curriculum is based around four core subjects – English Language Arts, Mathematics, Science, and Social Studies. At each grade level, students also have elective subjects.
To see the list of electives, please visit the following pages:
Our entire program is stored on the online learning platform. Each online course is divided into two semesters – A and B. As a homeschooling parent, you'll be able to set the pace of learning, and you are not obliged to follow any dua dates. Likewise, you will have 24/7 access to the online learning platform and learning material. You can decide however you like to use them. The platform also contains assessments, which you can use to test your child's knowledge.
What Documents Do We Issue To Homeschoolers?
 For families that use EduWW learning material as a homeschooling program, we won't be able to issue an educational transcript or a diploma. However, we can give a progression report. It is not official but rather an internal document showing student progress by following certain courses on our platform.
Switching From Homeschooling to Online Schooling
If you have homeschooled your child but you would like to switch them to online school, our team can do this process without any complications. Regardless of whether your child followed our program or some other during homeschooling, we can determine the level of their knowledge by putting them through the Placement program. Get in touch with our consultant to get more details about how the Placement program works.
Once enrolled, your child can continue their education through online schooling, which also enables them to learn from the comfort of their home.
Legitimacy of Homeschooling
Before you apply for our homeschooling program, please make sure that homeschooling is legitimate in your home country. Keep in mind that online schooling and homeschooling do not have the same validity in the eyes of governing bodies in charge of education.
If you are not sure whether you would like to homeschool your child or enroll them in an online school – get in touch with us. We will guide you to help you decide what is in your child's best interest, given the particular circumstances.
Education World Wide, International Accredited Online School