We are continuing with our series of mini-interviews with our talented students. This week, you will get the chance to meet James Luis Egozi – a Sport World School student who drives karting. Besides being a passionate and determined kart driver, James has big dreams – to compete in F1 one day. That is why he is 100% dedicated to his kart driving career now. That is also one of the reasons why he opted for Sport World School (a special department of Education World Wide) where online learning helps him balance school and sport. He is currently in Grade 10, and we must add regardless of his busy karting schedule, James manages to do his assignments on time, and he is a straight-A student. Let's hear his story.
James, when did you start with kart driving, and what prompted you toward that sport?
I started karting at the age of 4 after my dad recognized my love for speed.
Can you tell us more about the sport, what it looks like, how you practice for it, etc.?
Karting is the training ground for all professional drivers. There are oval tracks and circuit tracks. Depending on one's preference, you choose which style of driving you prefer. I prefer circuits, but either way, practice consists of hundreds of laps around the track while trying to improve your time against the clock and your competition. The faster, the better. In a race, speed, quick decision-making, and sometimes great defensive skills are what makes the difference.
Do you go to competitions? If so, can you tell us where you have competed so far and what are some results that you achieved? 
Yes, I have competed in many countries. I began racing in the United States then, as my career grew, I expanded to countries such as Italy, England, Brazil, Spain, and France. The race events are held by the Fédération Internationale de l'Automobile (FIA), the World Series Karting (WSK) and the RGMMC. Some of my achievements over the years consist of WSK Open Cup Champion 2021, US Open Champion 2018, FWT Champion 2017, and 2018.
What are some of the competitions you will participate in this year?
In 2022, I will compete in 19 – 20 race events. All my competitions will be hosted by either the WSK, RGMMC, or the FIA. Some races will be held in Spain, Sweden, and even Portugal.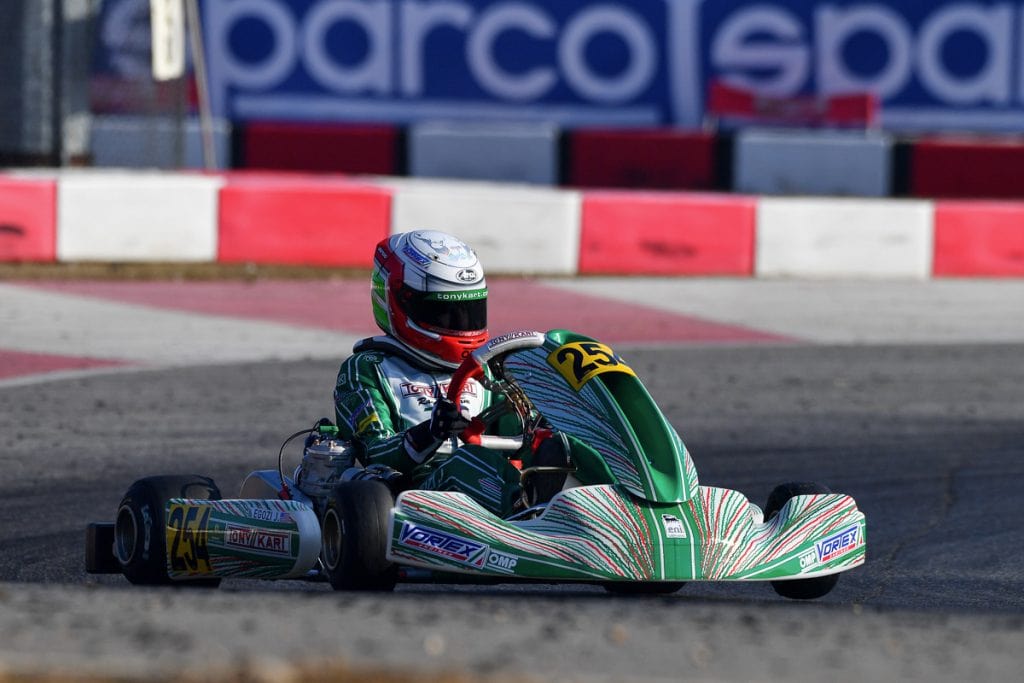 Why do you love karting?
What I love most about karting is certainly the adrenaline. Driving 130KPH + down the main straight feels great, and making that winning move on the last lap, love it! The adrenaline rush and the feeling of victory are definitely the biggest positives of motorsports.
In what sport do you see yourself in the future?
My goal is to compete in the FIA F1 Championship in the future. It's an extremely hard goal to reach as there are only 20 drivers in the world who participate in it, but I'm determined to make it.
What skills are necessary for someone to be a kart driver?
Some of it you just have to be born with…the ability to go full throttle on a fast corner requires a certain something that one must possess. However, aside from that, with a lot of practice and determination at an early age, anyone who puts their mind to it can succeed. All one needs is a kart, a track, and seat time.
How does online schooling help you manage your busy sports schedule with schooling obligations?
Online schooling has helped me manage my sports schedule by allowing me to select the dates I can and cannot work. Out of 52 weekends, 20+ are spent racing and/or testing. This means that at least 20 weeks (Tuesday – Sunday) of the year are spent traveling or on track. Between my sport and the rigorous off-track physical and mental training required, online schooling has definitely been an asset to allow me to schedule my schoolwork around those dates, and I'm extremely grateful for Sports World School. Before I enrolled in online schooling, although my traditional school was great, I was always having to make up work and tests, which took a toll on me and my sport. Now, I can give 100% to each independently and achieve the highest results possible.
Anything to add for the end of the interview?
Please follow me on Instagram @jamesegozi to learn more and keep up to speed with my progress! Thank you for giving me the opportunity to share a little bit about myself with you all!
James, EduWW, and SWS wish you luck, and we are happy to be able to help you on your way to achieving your dreams.