Data Protection System at EduWW
Education World Wide takes data security and privacy seriously. That is why we made sure to protect student's data on several levels. First of all, the students' data is encrypted. Additionally, their progress on the platform is also secured, and it can't be lost or deleted. Secondly, we use one of the most secure payment systems available globally.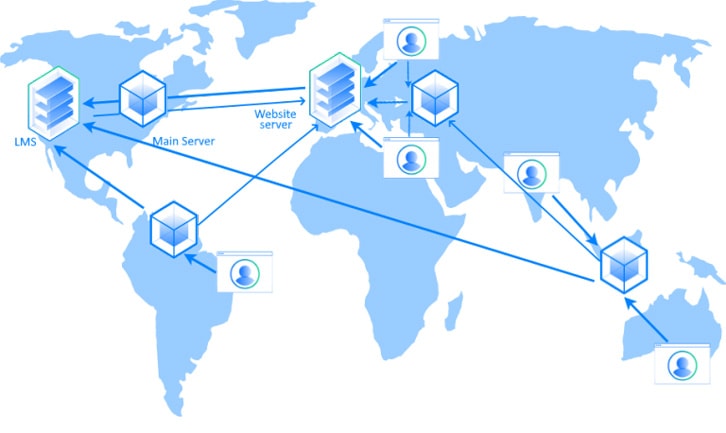 Protection of Personal Data and Privacy
EduWW protects all personal information that we receive from students by following Data Protection Act 2018. We collect some personal data from students during the application and enrollment process, which is required to enroll them at our online school. All our websites (www.eduww.net, www.sportworldschool.com, and online-business-academy.eu) have SSL encryption. That encryption keeps internet connection secure and safeguards any data that you send to us from reading, modifying, or stealing by the third party.
We don't record and store live chats and conversations with parents and students, nor do we record one on one live sessions between students and teachers.
EduWW Websites and our online learning platforms are not on the same server. Therefore, we must use the student's data to create a profile and enable them to access the platform. However, we don't provide or sell student's data to any other party. Their data remains private and is used only to provide online education.
Security of Students' Progress in the LMS
The entire learning process at EduWW happens online, which is why it's crucial to ensure the security of the system. Both learning management systems that we use (Ignitia and Oddyseywarre) have strong, up-to-date encryption protocols. That ensures that all data and progress that students have made during their studying are protected and safe.
How Does It Work?
Students' progress on the platform is automatically saved and synced through the CDN (content delivery network) servers and then kept on the special central server. CDN saves students' daily progress and activity
Student's daily progress and activity on the platform are saved at CDN only temporarily as a cash memory. A CDNs then transmit the data onto the central server where it's kept safe for the next 30 years.
Therefore, students' progress on the platform will not be lost in case of some technical emergency. Although we do everything to prevent any cyberattack or technical malfunction, even if something happens, the students' work on the platform is safe and secure.
Secure Payment Options
When it comes to payment options, we offer two possibilities, a wire-transfer or PayPal, which is more secure. PayPal might not be the most affordable option, because they charge transfer fees for both sides, but they are by far the most reliable money transfer options. PayPal is safe for both parties if they follow the appropriate security protocols like using two-factor verification. The best part about this payment option is that you create your account and add your card only once. Your data is protected and you are not obliged to share your card or details with us as a school.
Education World Wide, International Accredited Online School