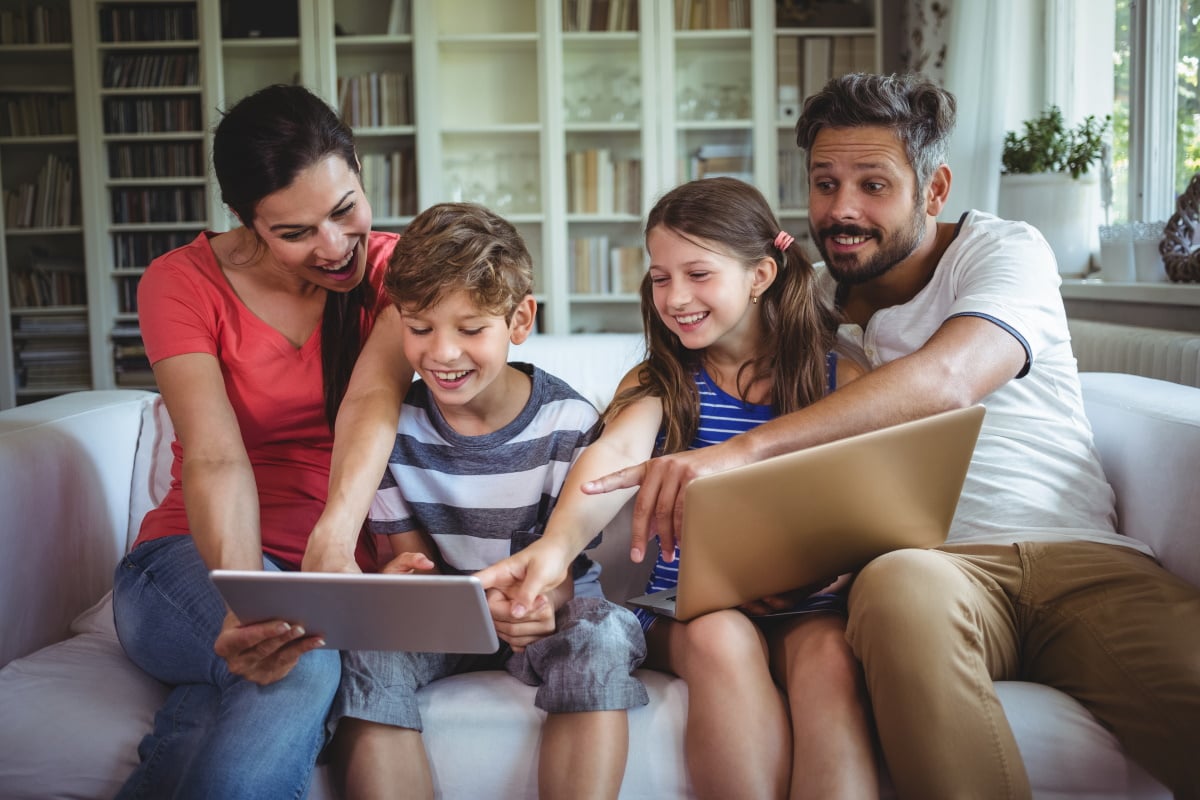 EduWW Tuition Fee Includes the Whole Package
The education of a child is undoubtedly one of the most important items in the family budget. Quality education costs, but it doesn't have to be overpriced. Education World Wide is a private international online school, and our services and programs come with a price tag attached. Yet, our tuition fee is moderate, and the majority of families can afford it. To make it even easier for families, we established a payment system that allows them to pay per month.
Students get a top-notch online education at Education World Wide, whether we are talking about elementary, middle, or high school. We aim to deliver a unique learning experience for each of our students, regardless of where they live.
An excellent, and more importantly, the approved program ensures that children are getting high-quality knowledge. Through schooling at Education World Wide, each student builds a solid foundation of knowledge and develops skills that will be beneficial once they progress to higher education.
The program we provide is entirely delivered online, and our students learn from one of the best Learning Management Systems that exist in the online education market. Each of the platforms we use, Ignitia and Odysseyware, is certified and awarded as a virtual environment that satisfies high standards. They are safe, easy to navigate and offer multimedia elements to teach children.
On top of that, we have to mention one on one tutoring support that our students can use five days a week, two hours per day. In these live classes, they get the opportunity to work directly with a teacher who is focused only on them. So basically, it's like they have a private tutor.
How Much Does This Online School Cost?
It's not hard to conclude that Education World Wide offers high-quality service in every aspect of online education. Our tuition fee covers the whole package, not just subjects — like it's the case with some other online schools. More importantly, we don't impose any additional costs, nor will you be pleasantly surprised by some hidden expenses.
Even though the school is registered in America, we are certified to provide online education internationally. In other words, we accept international students. We apply the same prices for students from the US and those enrolling from the rest of the world. The tuition fee is equal for every student, and if we may add, quite affordable. The tuition fee is $3000 per grade, and as we have previously said — it includes everything.
Families can pay the tuition fee in up to 10 monthly installments. In that case, the monthly installment would be $300.
What EduWW Tuition Fee Includes
Each EduWW student gets:
24/7 access to the online learning platform
Complete learning material
One to One tutoring support on-demand
Consultations and timely review of a student's progress
Education transcripts (at the end of the grade) and a Diploma with an Apostille upon graduation
24/7 Access To the Platform
Each of our students gets a personal profile on our platform, and they can access it 24 hours, seven days a week. We don't put any restrictions. That enables them to have full flexibility and control over their learning plan. Likewise, each student develops a personal learning schedule and learns at their own tempo. The on-going access ensures that a student can learn at any time of the day, regardless of where they live. Whether you live in America, or Saudi Arabia, or Spain, or anywhere else, you can always log in.
Complete Learning Material
Considering we are a virtual school, our students don't use books because the entire learning material is stored online. Students can access their lessons, tests, quizzes, and other assignments on the platform. Therefore, parents don't have to buy additional books or resources for their children. Education World Wide provides all materials, and they are available to the student at all times. Notebooks are not required either; however, some students find it easier to learn if they make notes.
1 To 1 Teaching Support
Education World Wide has a network of teachers. Although most of them live in Europe, some are placed in Asia and the US. Thus, one-on-one tutoring support is also available to all our students because our teachers can cover almost all time zones. A student can schedule a live class with a teacher, any day from Monday to Friday. Such classes can last up to two hours per day, and they are not obligatory. A teacher will suggest the frequency of the classes in regard to student's results.
Consultations and Timely Review of a Student's Progress
A parent or student can contact a teacher or educational consultant during the entire year. If they have questions, or they would like to discuss a certain matter, our students can always reach us. They should contact the teacher if the matter is related to the program, and they write to the consultant for the administrative concerns. Likewise, our teachers are constantly monitoring the progress of each child on the platform. Occasionally, they will do a review and send it to both a parent and a student.
Education Transcripts and Diploma
Our education transcripts and diploma originate in the US, yet they are documents valid and recognized worldwide. A student gets an education transcript after they finalize the grade with us. However, if a student stays with the Education World Wide, we won't issue the transcript unless the parent asks. If a student is transferring to another school, we are issuing a transcript because that would be the document that will confirm that a student has finalized a particular grade.
Upon graduation from high school, our students receive a high school diploma. Students who live outside of the US receive an international diploma, and it comes with an Apostille certificate. Education World Wide diploma enables students to apply to numerous colleges and universities worldwide. Those institutions recognize them as international students.
How Can You Pay the Tuition Fee?
Now that we have explained what the tuition fee covers, let us tell you a few words about payment options. Education World Wide prefers PayPal as a payment option due to security reasons on both sides. If you don't already have a PayPal account, you don't have to open one. Each month our team will send you a link provided by PayPal, and each month you will get an invoice to your email — with the monthly tuition fee installment.
That is, of course, in case you opted to pay the tuition fee in monthly installments. If you have opted to pay the full amount at once, you will receive this link only once. PayPal does take a certain commission fee, but the school covers that expense, not the family. We have excluded the option of automatically debiting, which means we will never charge you without your confirmation. In case you don't want to use PayPal, you can discuss alternative payment options with our education consultant.
Have a Question?
Although we are a private school, we still have managed to keep the affordable tuition fee. In addition, we allow families to pay it in installments, and we also offer a couple of discounts. Such reliefs are discounts for parents who are paying the full price instantly and families who enroll more than one student.
The schooling costs at Education World Wide cover all services that we provide. A parent will never be unpleasantly surprised with some additional costs. Besides, our Academic Board will never increase the tuition fee during the year. Even if the school decides to raise schooling costs, it won't affect previously enrolled students. They will continue their schooling with Education World Wide at a price that they started.
In case you have any question or a doubt, feel free to write to us at info@eduww.net.