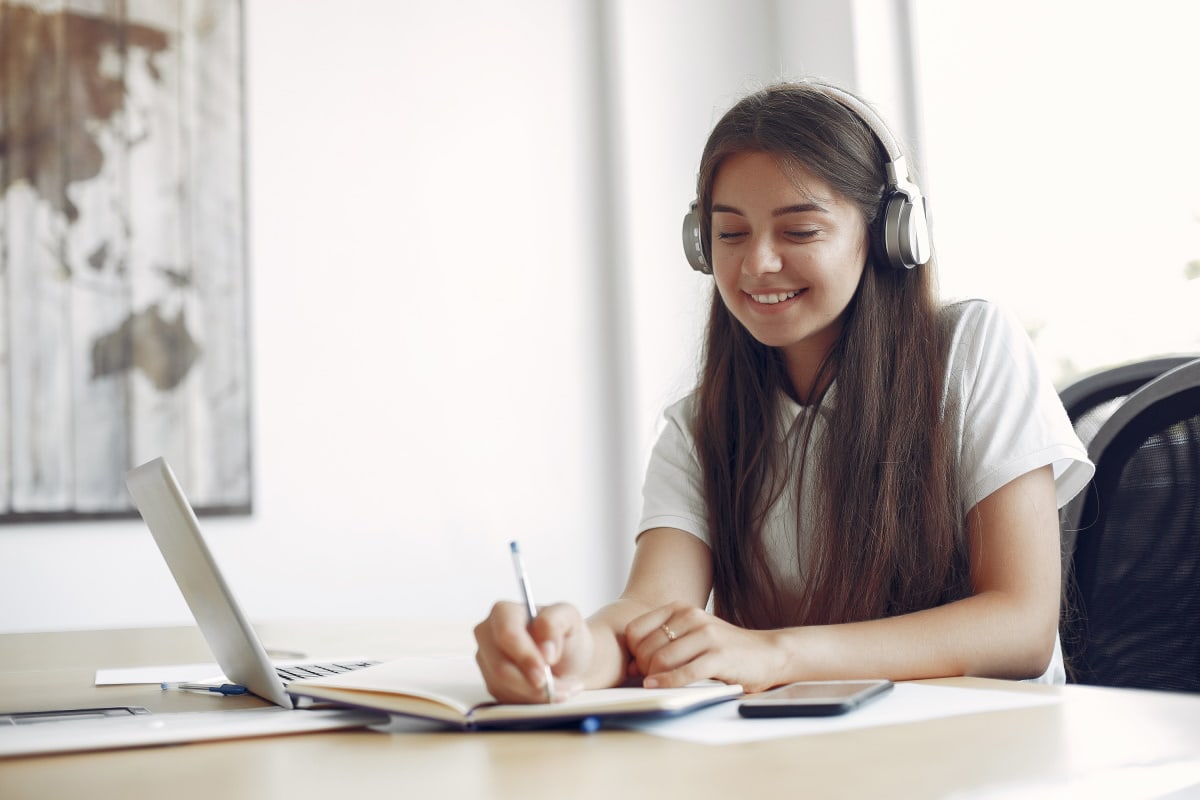 Education World Wide – Your Online School for the 21st Century
Education World Wide (EduWW) is a tier-one online education provider based in Florida, but available to students worldwide. Our school offers an online K12 program.  In other words, we are an online elementary, middle, and high school. Through our accredited modern curriculum and unique learning methodology, students gain valuable knowledge, develop personal interests, and acquire practical skills that will help them once they go to a college or find a job. Under its roof, EduWW also has Sport World School (online K12 schooling for young athletes) and Online Business and IT Academy, so we are end to end education provider. But, even if you would like to continue higher education elsewhere, our certified diploma allows you to do so.
Online schools are flexible and enable students to learn from the comfort of their home and organize time the way it suits them the best. EduWW has a modern program and unique learning methodology that prepares students for the 21st century. Discover the difference by exploring the interactive map bellow.
Easy to Use Platform
All EduWW learning materials (lessons, videos, quizzes, essays, tests…) are based on an online platform, so the entire learning process is happening online. Our students can access the platform 24/7, and we can provide login credentials for parents as well. Additionally, you can test our platform for free before you decide to enroll –  we'll explain that in detail later in the article. 
You can access the platform from your desktop or laptop computer, an iPad, or any other tablet. All you need is a decent internet connection. EduWW uses two Learning Management Systems, Ignitia, and Odysseywarre. Both of these systems are certified, easy to use, and fully interactive. Our platform is also approved as a resource suitable for schooling children with autism. 
EduWW learning platform is also convenient for parents who homeschool their children. For those of you whose children are playing sports, we advise you to explore our specific online schooling platform for young athletes – Sport World School. 

High-Quality Program
EduWW provides its students with a high-quality program offered through core subjects and a wide variety of more than 90 electives. Each grade has four main subjects and two electives that our students can choose based on personal interests.
Elementary School
Our online elementary school has a fun, creative, and interactive program that keeps the attention of students at that young age. It also prepares them for middle school. Explore elementary school courses here. 
Middle School
Our online middle school program gives students more extensive knowledge of core subjects. Additionally, they get to discover personal interests, through Career Exploration electives. Explore middle school courses here.
High School
Besides core subjects, EduWW high school has an array of more than 90 electives, which are sorted in 13 elective departments, such as STEM, Marketing, Arts, Technology and Communication, etc. Through those electives, our students explore their interests and talents, and they gain practical skills. All of which will be very valuable once they proceed to college or decide to find a job in a particular industry. Explore high school courses here.

Unique Learning Methodology
EduWW has developed a unique learning methodology that makes things easier for our students. Since students mostly learn by engaging with multimedia content on the platform, all learning materials are simplified. A simplified curriculum means that we made it easy to understand without lowering the quality of education. Lessons are divided in such a manner that they don't overburden the students with too much information. They learn gradually. 
With such methodology, students can learn at their own pace, which leaves them plenty of time for other activities. That is especially convenient for students who are actors, singers, play sports or have any other interest, outside of the school. To conclude, EduWW students can create personalized learning plans and learn on their own time following their own tempo. 
Teaching Support
Let's suppose that a student needs additional support, EduWW organizes one on one teaching support. Our teacher will schedule a tutoring session with a student so they can work together. A student can ask for teaching support on a one-time basis or in continuity. Our teachers are available to students all the time, and they can contact them via a messaging system within the platform. 

Transfer at Any Moment 
You can sign up and enroll in EduWW online school at any moment. In case a student transfers in the middle of the year, they won't have to take the entire grade from the start. They can continue where they left at their previous school. In such cases, we initiate the CRx mode, which is a credit transfer system. It means that our new student takes a pretest for each unit of each subject in a particular grade. Based on their results, we provide an individualized learning plan for that specific student, so they don't have to go through the lessons that they already mastered. 
All Included Tuition Fee
Although we are a private school, our tuition fee is quite affordable. EduWW tuition fee includes: 
24/7 access to learning materials

One on one teaching support 

Customized course plan 

Timely review of students progress

Two electives per grade

Paper reports

Apostille certification 
We don't impose any additional costs, and we also allow parents to pay the tuition fee in up to 10 monthly installments. 

Certified Diploma and Progression to College 
EduWW online schooling program is accredited and certified, which allows our students to continue with higher education. We are written in the Florida Department of Education, accredited by the NCA CASI, and approved by the NCAA. Our diploma is valid and accepted by many universities nationwide, but also internationally. Here you can explore progression to college and options after our high school.

Application Process 
We don't like bureaucracy, so we made the application process fast and easy. All you need to do is send us your previous education transcripts and a copy of your ID or passport, and all the rest we can finish within 48 hours. 
Get in Touch 
There is no way that we can tell you everything in a single article, and we know how important the education of your child is. So, if you have any questions or doubts, don't hesitate to contact us, we'll be glad to help you with further information. Send us an email at info@eduww.net or contact us via phone number +1 561-404-4557. You can also schedule a free consultation with our education consultant by filling out this form. Or, you request to test our platform for free by filling out this form.