The short answer to this question is — yes, colleges and universities accept online high school diplomas. By all means, that diploma has to be issued by the accredited online school. EduWW is a certified provider of online education on an international level. Therefore, our online high school diploma is accepted by the majority of colleges and universities globally. Our graduates receive an international diploma that gives them multiple options for higher education.
There is a common belief that colleges and universities do not accept students who went to an online high school. That is not entirely true. Higher education institutions don't make a big difference between students who went to brick and mortar schools and those schooled online. But only in the case when the provider of online education is legitimate and offers a certified program.
How to Recognize an Accredited Online School?
Parents may think that it's a little bit hard to verify the validity of a school that works online, but it is not. In most cases, online schools have that information on their website. Therefore, your first step would be an exploration of the school's website. Yet, it wouldn't hurt that you try to verify their credentials in a phone conversation with school officials. Just to be sure. The two most important things you have to pay attention is if the school is registered and who accredited their program. This goes for both brick and mortar and online schools.
When it comes to Education World Wide, you can rest assured that you are in the right place. We are registered with the Department of Education of the State of Florida. As a US-based school, we use an American international curriculum that has been accredited by several institutions, one of them being the North Central Association Commission on Accreditation and School Improvement.
What Does an Accredited Program Mean?
Some schools are registered, but they don't provide an accredited program. A certified curriculum means that it meets certain standards and carries a certain weight and quality. We can't just take any program and offer it to students. Official bodies and institutions have to approve that program and declare it useful for students.
All programs at EduWW are accredited, not just the one for the high school. Our elementary and middle school curriculum is also approved. It means that by following that program, our students receive excellent knowledge. It guarantees that the subjects, courses, and learning material give them enough information to create a solid foundation of knowledge that will prepare them to follow more advanced academic programs.
The program that we use at EduWW can be and is used by regular schools, as well. The only difference is the method of deliverance. We deliver our program online, but it carries the same quality and legitimacy as a traditional school's program. Keep in mind that online education has benefits in comparison to traditional forms of schooling.
Aside from the program, we also use accredited online learning platforms. You are more than welcome to confirm all this directly with one of our educational consultants. They can explain to you our credentials in an individual call, which is free to schedule, and at the end of the article, you will find information on how to do it.
How To Get Online High School Diploma?
Secondary education covers grades 9 to 12. To get EduWW diploma, you have to finalize at least 12th grade with us. To ensure that you truly get the best out of our virtual education, the best thing to do would be to finish all four high school grades at EduWW. Our online high school program carries credit points, as well. Credits affirm that a student met academic requirements at high school.
A student receives credits upon completion of the program. For example, each core subject carries one credit, while elective subjects are worth 0.5 or one credit point depending on if they are annual or semestral. According to the US educational system, a student must acquire at least 21 credits to be eligible to graduate and receive a high school diploma. Our high school program enables students to achieve from 21 to 24 credit points. The table below explains how that is possible.
Once a student finishes 12th grade and achieves the required number of credits, they officially graduate. They are eligible to earn an online high school diploma. EduWW diploma originates in the US and comes with an Apostille certificate. For US students, it is a regular national diploma. However, for students from the rest of the world, it will be an international diploma.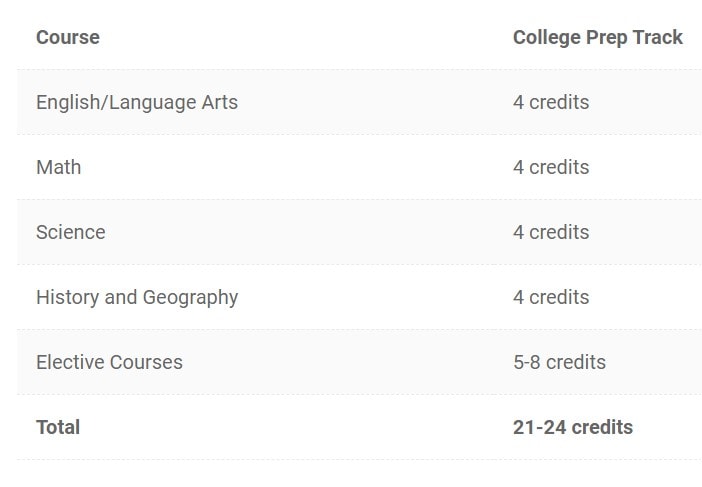 Does Online School Look Bad For Colleges?
Not at all. As we have mentioned above, if an online school is accredited and uses an approved program, which EduWW does — then going to college or a university will not be a problem. Moreover, an online high school diploma for international students opens the door to the entire world. They are not bound to apply only to universities in their home country. They can literally apply to any college or university worldwide.
We have already explained above that our curriculum is accredited. It means that a student will receive the knowledge that will enable them to follow academic programs once they proceed to higher education. Our students receive an international diploma, which is recognized and accepted worldwide. They have many more options for higher education with such a diploma than with a national diploma.
Opportunities After Online High School Diploma at EduWW
EduWW students have many opportunities after graduation. We help them discover personal interests while they are in school. Moreover, they get to learn about things they are truly passionate about. Once they proceed to university, they will have some basic knowledge in that particular field. With EduWW high school diploma, a student can study in the home country or abroad. They can opt for an on-campus university or continue with online education.
Dual Enrollment
EduWW has additional offers for students who are interested in studying business. We have a dual enrollment program, which allows a student two to get a dual diploma in a single year. The offer is available to students in the 12th grade, and alongside regular programs, they can also enroll in a Level 3 in Business. Aside from introducing them to business basics, with Level 3, students get 120 academic credits. That will significantly boost their chances of getting into the desired university to continue to study business.
Online Business Academy
While we are in the matter of business, we have to mention EduWW Online Business Academy. It is a special online learning platform that offers UK academic programs in Business Administration and IT & Computing. Online Business Academy provides students with a unique learning experience through a variety of self-paced programs. All of them are certified and accredited, and upon finalization, students receive a Diploma or Degree.
At Online Business Academy, you can get level qualifications from Level 4 to Level 7 in the fields mentioned above. Likewise, we offer full BA and MBA Honors programs from some of the most respected British Universities. Feel free to explore details on the academy's website.
Progression to College
As we have mentioned previously in this article, higher education institutions around the world accept EduWW diploma. To see the list of colleges and universities where our students can apply directly, please visit our Progression to College page.
A Safe Path for Your Future
Education World Wide is a secure path for your future. Our online high school diploma is recognized and accepted by many colleges and universities. We make sure that our students receive high-quality knowledge, so they can be self-confident to apply to any desired university. The international diploma that they will receive upon graduation opens the path towards universities in the entire world.
The diploma that we issue has the same value as a diploma in any other international school. Nowhere on the document, it says that a student followed the program online. And truth be told, universities and colleges don't care about whether they went to a traditional or virtual school. They are interested in the knowledge that you got through the curriculum that you followed. As we have explained in this article, EduWW curriculum is accredited and approved for use.
In case you were wondering, are high school diplomas online legitimate — they are. Because they are no different from a diploma, you would receive in a brick and mortar school, provided that the online school is accredited.
Still, not convinced? Don't worry, arrange a free conversation with our education consultant, and discuss any topic regarding virtual schooling and the legitimacy of a high school diploma acquired online. Send us an email to info@eduww.net, and one of our consultants will gladly reply to all your questions.